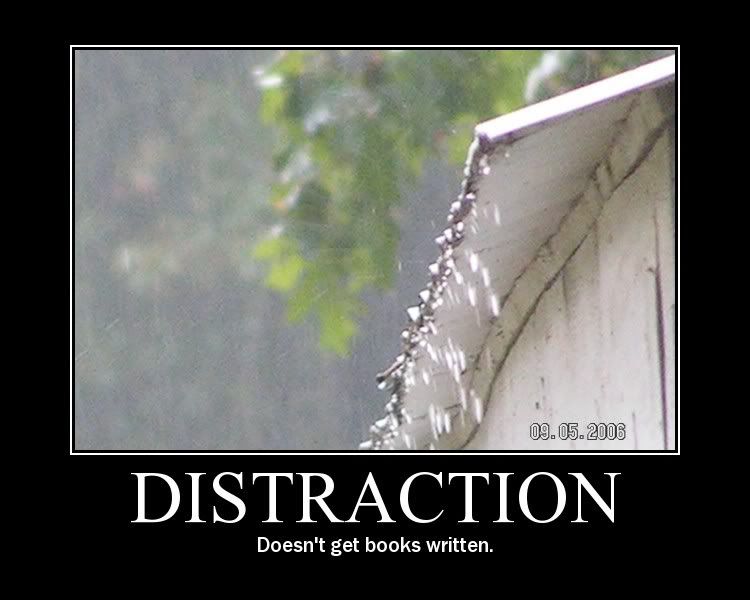 My husband thinks I'm a little on the, uhm, unique side. I pretty well confirmed that he's right. I made myself a cozy little office in our storage closet. Yep. I sure did.
If you're cheering my sheer genius (or pure desperation)speak up! That means that you've wanted somewhere, anywhere that you can go to escape. I cannot be the only one. If I am, don't ruin my delusion. Play along, ok?
I've had my BOC time. Thank you, Mary DeMuth, for the use of your phrase. BOC=Butt on Chair. I've had my butt in this chair but I've been doing anything but writing. Reading blogs, sending emails, helping with the upcoming Carnival of Christian Writers, chatting, balancing my checkbook--ACK!!
Why is it so hard some days to get anything done at all? Again, please don't ruin my perfectly good fantasy that there are more people out there who feel this way. I have stories swimming around in my head constantly. Yet, I'm messing around doing things I shouldn't be doing, or at least I should write first and then play.
So I decided I'd fix it. I cleaned out the storage closet, well, I didn't exactly clean it all out. Half of it. I placed an old school desk in there with my back toward the messy side and I put a card table beside that covered with some nice black fabric. I put some wood crates on it and my writing books, I hung a shelf and put my important inspiration pieces on it, and set up the laptop. This is all very calculated. I have to have my back to the chaos of mess behind me, I have to have stuff that is important only to me around, and I need to have my internet privileges taken away from me.
I took pictures, but they're not available yet so when I get them I'll show you my wonderful new hideaway. I am thrilled about this and my husband patted me on the head and told me he still loved me.
~michelle
My thoughts grew hot within me and began to burn, igniting a fire of words
Psalm 39:3

Michelle Pendergrass
is a coffee-lover who lives in Knox, Indiana where she homeschools her son, Zane. She blogs at
Just A Minute
. When you visit, please note that her son is most definitely weaned and has been for some time now. Some names just stick.
©2006 Michelle L. Pendergrass - All Rights Reserved